EXTRA-CURRICULAR ACTIVITIES
NCC (NATIONAL CADET CORPS) – NAVAL WING (JUNIOR DIVISION) – BOYS & GIRLS
NCC is a tri–service organization comprising Army, Navy and Air force engaged in grooming the youth of the country into disciplined and patriotic citizens. It inculcates in youth a sense of nationalism and secular outlook that contributes towards the building of the nation. Needless to say the NCC also provides a conducive environment, to motivate youngsters to join the armed forces. AT PSGSJHSS, there is a Naval unit of NCC with the following milestones:
NCC training – PRCN, Kochi
REPRCN – Visakapattinam
NCC camp – RDC, Pondicherry
CATC  – Madurai
The Naval Wing conducted social awareness programmes and rallies for tobacco control, water conservation, environment protection.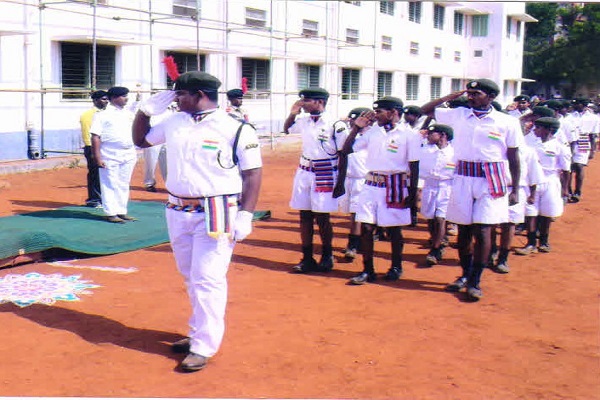 At school level, the cadets take part in celebrations such as Independence Day, Republic Day, Yoga Day and Science Exhibition Day. The Naval Wing bagged Best School Award at CATC camp for three years i.e. 2015, 2016 and 2018. It also won the award in JDJN cadets at RDC camp and in recruitment in the Army, Navy and police force. Thus the NCC continues to meet the requirement expected of it in the socio-economic scenario of the country.
NCC (National Cadet Corps) – BOYS WING
National Cadet Crops (NCC) for students functions in our school. The unit has been participating in various activities and has won many laurels for the school from its inception. It has the credit of receiving the honourable former Governor of Tamil Nadu Mr.P.S.Ramamohan Rao.
OBJECTIVES
Instilling patriotism and service to motherland.
Cultivating the habit of helping the people and serving society.
Preparing the students to face the challenges in life, through various activities.
Enabling the students to take up the job opportunities to serve the country and society such as police, defence, fire service etc.
ACTIVITIES
Trekking, yoga, military exercises, cultural programmes, sports and games.
Participating in camps and various training programmess conducted by the parent unit.
Participating in the march past in National Festivals.
Maintaining discipline in the school functions and festivals.
NCC (National Cadet Corps) – GIRLS WING
True to its patriotic roots, the school instills in its wards a deep sense of their role in preparatory defence of the country. Two of the mainstream student activities of National Cadet Corps in the Army and Naval wings, instill in them, a sense of patriotism.
NCC Girls Army Wing was started on 10.10.2018 at PSGSJHSS.
25 girl cadets are enrolled every year.
Social service activities are carried out by the NCC. On December 11th our students participated in plogging at Race Course. Awareness Programme on COVID19 was held on 14th December at Peelamedu.
Annual training camp was held at Angel College of Engineering, Tirupur. 25 cadets attended the camp. Many competitions were conducted and they won the prizes.
NSS (National Service Scheme)
PSGSJHSS is the only school in Tamil Nadu which has both Boys' and Girls' NSS wing.
"Service to mankind is service to God"
To inculcate this value, NSS is included in the school activity. Many students have joined this scheme. True to the motto of the school – "SERVE AND SMILE" – these volunteers render social service and thereby derive joy. Their contribution to the society emphasizes their motto "Not me but you".
Road rules are hard and fast rules. Violation of these rules would be fatal. Realizing the importance of this, the school has joined hands with RSP (Road Safety Patrol), of Coimbatore. Many students have enrolled themselves and they help in regulating and decongesting the crowded areas in the campus. Nearly 100 students participated in "Anantha Salai Vibathilla Kovai" held at V.O.C Park from 2.12.2010 to 4.12.2010. and bagged prizes in various competitions. RSP's active participation in "Lead India 2020" and "Peelamedu 300" is another feather in its cap.
Students are instructed to come in line in the school campus
Cycle parking has been taken care of by the RSP club
Making the students to be aware of general traffic rules and regulations
Helping to maintain discipline in the school functions
Our planet Earth is so fragile and delicate that it is vulnerable to many hazards. To create awareness about the impending dangers, ECO club was started in the school and it has been functioning very effectively. The members of this club participated in 'Environmental Awareness Programme', "Ill effects of plastic bags" etc. They also won prizes and accolades at All India Level.
 Green Corps objectives
Creating awareness regarding environmental issues.
Emphasizing the need of conservation of energy
Promoting personal health and hygiene.
Keeping the campus green
Encouraging the use of eco-friendly products.
Activities
Cleaning and making the campus a litter-free zone
Collecting  and segregating garbage
Planting saplings
Growing medicinal herbs
Naming the trees and highlighting their uses
Achievements of Green Corps
National Green Corps has won the School Brilliance Award in 2014 – 2015
District Eco Award of educational institutions was won in 2016-2017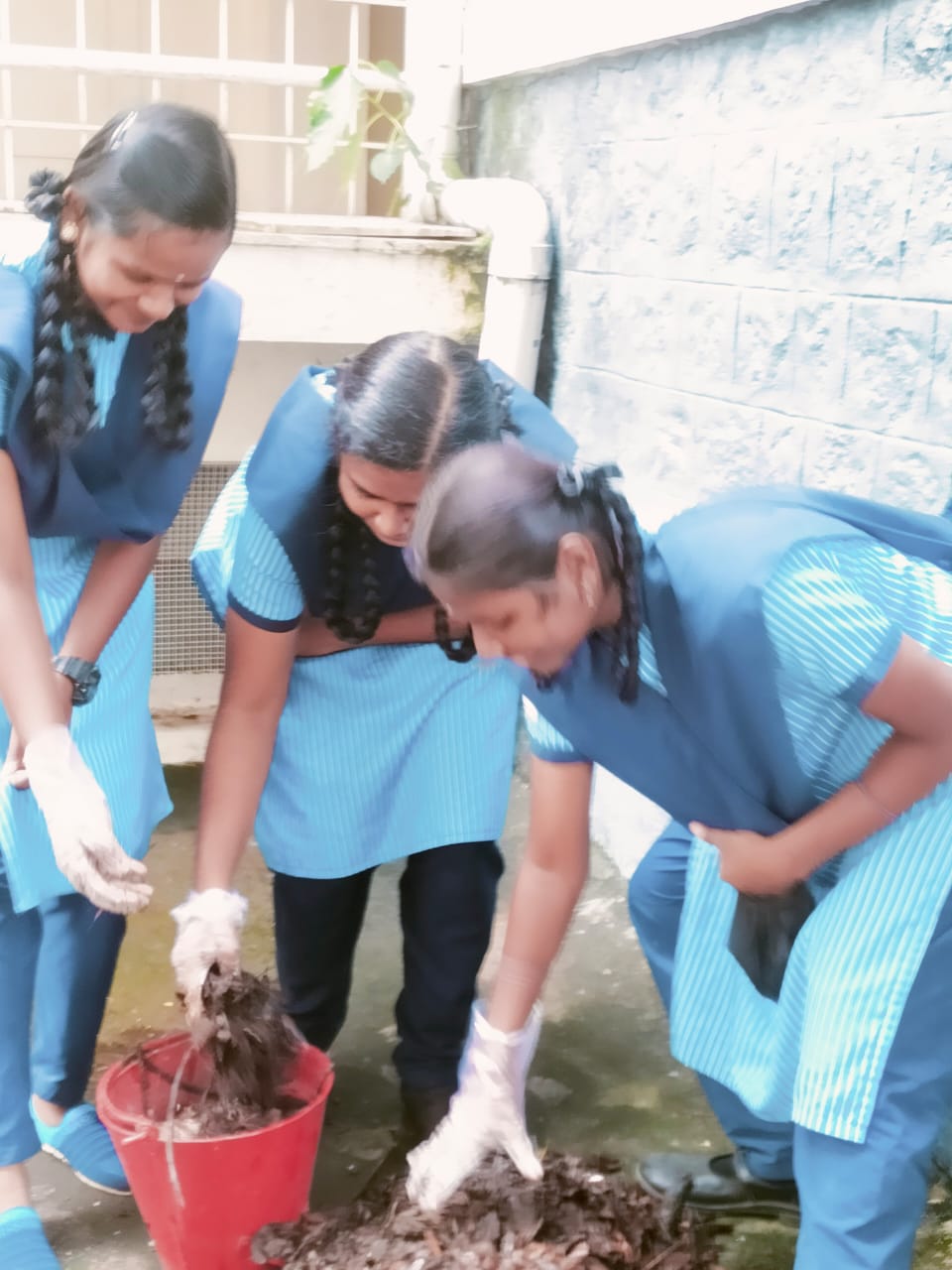 This movement trains the children to be prepared, vigilant and watchful. Its motto is "Be Prepared". The school prides itself in having 'Girl Guiding'. The students of this movement attend the guides camp which is held periodically. They have also qualified themselves in the "Rajya Puraskar" Exam and they are the recipients of Governor Award.
As per the instructions of the School Education Director, Schools need to allocate money for the uniform for the staff – in- charge of Guides.
Achievements
It is a matter of pride that, Bhuvaneswari. T of 11A, Saritha. C of 12 I and Girija Devi S. of 12B have won Rajya Puraskar, the prestigious Governor Award in 2013 for their service in Bharat Scouts and Guides. The stages they completed are Pravesh, Pratham sophan, Dwitiya Sophan and Trithiya Sophan and have received six special badges
It is a remarkable achievement that they have the reservation for government employment.
Junior Red Cross
The Junior Red Cross was established in 1922 for encouraging younger generations to cultivate their humanitarian spirit by understanding the Red Cross principles and ideas through active participation.
The father of Red Cross movement was Jean Henry Dunant. The Indian Red Cross society adopted Junior Red Cross in 1925, which was established in Punjab 1926.
Motto: I Serve
AIMS OF JUNIOR RED CROSS MOVEMENT
To include ideas of peace and practice of service.
To care for our own health and that of others.
Understanding civic human responsibilities.
To cultivate the spirit of friendliness globally.
ACTIVITIES
To involve students in various activities in the school premises.
Providing proper first aid for people in need.
Organizing medical checkup programmes and exhibitions.
Developing esprit de corps (team spirit) among the students.
The members of this club create awareness about AIDS to the society. Every year, they conduct many programmes and rallies. AIDS day is observed.
OBJECTIVES
To create awareness and to induce the spirit among youth to help and support people living with HIV/AIDS (PLWHA) thereby reducing stigma and discrimination against PLHWAs.
To motivate youth and build their capacity as peer educators and change agents by developing their skills on leadership, negotiation, and team building.
To promote voluntary blood donation among youth.
RED BOW – The red ribbon is a universal symbol of awareness and support for people living with HIV. Wearing a ribbon is a great way to raise awareness on and during the run up to World AIDS Day.
---