EMINENT PERSONALITIES VISIT
A WALK DOWN MEMORY LANE
Over the years, numerous eminent personalities have visited our campus promoting creativity and personality development among students. People from different spheres of life have come to share their vast knowledge and teachings which directly have impacted our student's lives. We have been bestowed with extreme guidance and teachings of these personalities, who by visiting the campus have undoubtedly, enriched our path of learning and achieving success.
Good wishes from MAHATMA GANDHI
In a function conducted in Chennai on 21.01.1946, Mahatma Gandhi inquired of the teacher Thiru.J.A.Baskara Iyer about the name of his school.  When the teacher answered "Sarvajana High School", Gandhiji exclaimed 'What a beautiful name!' and blessed the school joyously as 'Sarvajana Sukino Bhavanthu' that is 'May the school function accordingly'.  Since that moment, the school has been living up to its name.
16.12.1925 – E. V. RAMASAMY(PERIYAR)
Member of Congress party, Madras Presidency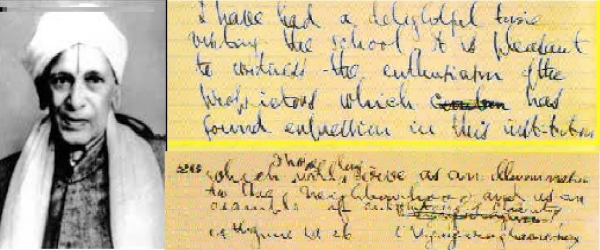 14.06.1926 – C.VIJAYARAGAVACHARIAR
Advisor of Viceroy
24.04.1927 – Dr.P.SUBBARAYAN
Former Chief Minister of Madras Presidency
20.10.1927 – MAHADEVA DESAI
Gandhiji's Personal Secretary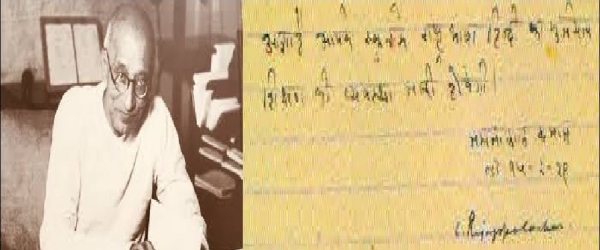 14.02.1929 – C.RAJAGOPALACHARI
Former Chief Minister of Madras Presidency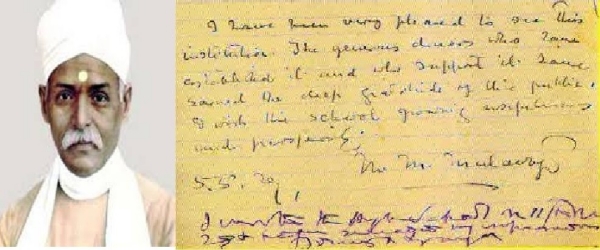 05.05.1929 – Pandit MADHAN MOHAN MALAVIYA
President of Indian National Congress
13.10.1934 – RAMAKRISHNA RANGA RAO (BOBBILI RAJA)
Chief Minister of Madras Presidency
24.10.1934 – V.S.SRINIVASA SASTRI
Former Vice-Chancellor of Annamalai
04.08.1938 – V.V.GIRI
Honourable President of India
16.02.1935 – A.T.PANEER SELVAM
Minister of Home of Madras Presidency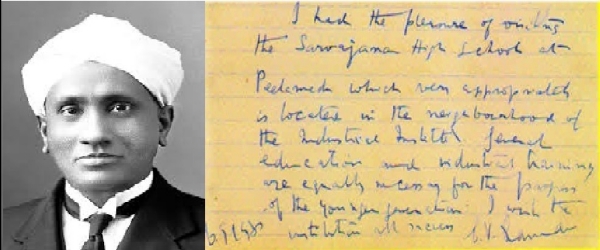 06.09.1935 – SIR C V RAMAN
Indian Physicist
13.04.1947 – T.S.AVINASHILINGAM CHETTIAR
Education Minister of Madras Presidency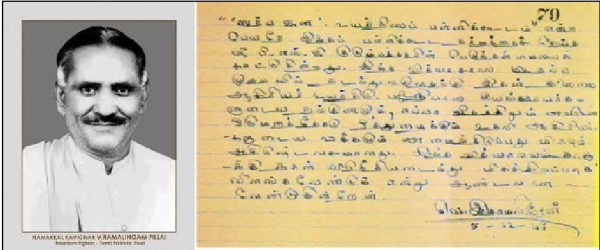 05.12.1947 – V.RAMALINGAM (NAMAKKAL KAVIGNAR)
04.08.1948 – Sir.C.P.RAMASWAMY IYER
Diwan of Travancore
13.10.1950 – T. K. CHIDAMBARANATHA MUDALIAR(RASIGAMANI)
Tamil Scholar
23.11.1951 – Dr.SHUDDHANANDA BHARATHI (KAVI YOGI MAHARISHI)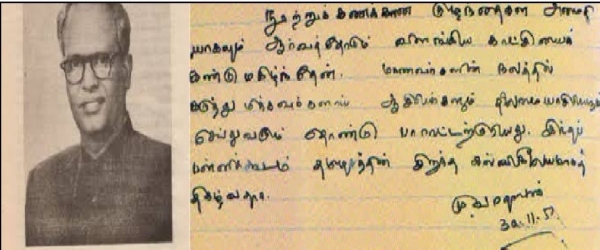 30.11.1952 – Dr.M.VARADARAJAN,
Vice Chancellor Madurai Kamarajar University
12.10.1954 – THAVATHIRU KUNDRAKUDI ADIGALAR
Atheist and Saint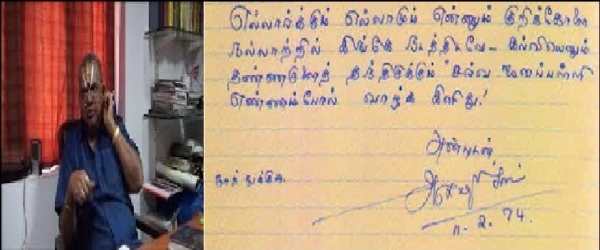 11.02.1974 – A.SRINIVASARAGAVAN
Sahitya Academy Awardee
19.10.1974 – THAVATHIRU SACHIDANANDA SWAMIGAL
An alumnus of PSG Sarvajana Higher Secondary School
07.12.1974 – Dr.V.C.KULANDHAISWAMY
Vice-Chancellor of the Anna University
10.12.1974 – K.K.SHAH
Honourable Governor of TamilNadu
10.12.1974 – JUSTICE P.R.GOKULAKRISHNAN
Highcourt Madras
14.12.1974 – Padma shri Dr.N.D.SUNDARAVADIVELU
Vice-chancellor of Madras University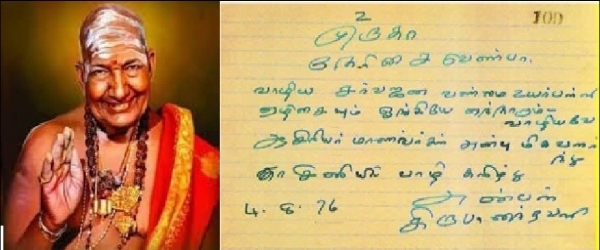 04.08.1976 – THIRUMURUGA KIRUBANANDHA VARIYAR
Shaivite spiritual Teacher
20.12.1977 –Dr.H.S.S Lawrence
Director of School Education
27.06.1990 – M. TAMILKUDIMAGAN
Speaker of the Legislative Assembly
12.01.1992 – R.M VEERAPPAN
Education Minister of Tamilnadu
10.08.1993 – KUMARI ANANTHAN
Platform orator
01.09.1993 – KAVIKKO S. ABDUL RAHMAN
Kalaimamani Awardee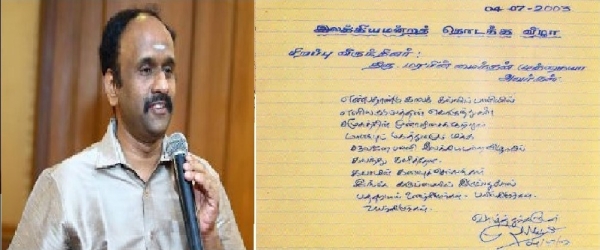 04.07.2003 – MARABIN MAINDAN MUTHAIAH
Motivational Speaker, Writer
06.02.2004 – Dr.S.S.RAJAGOPALAN
Former HM & Secretary,PSG Sarvajana Higher Secondary School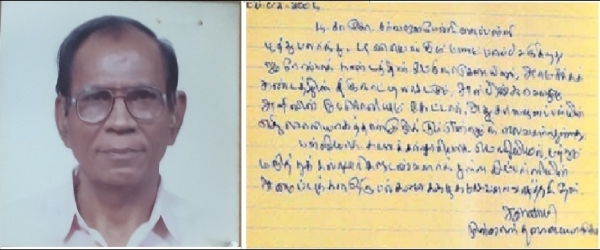 06.02.2004 – A. RAMASAMY
Former HM, PSG Sarvajana Higher Secondary School.
10.07.2004 – P.S.RAMAMOHAN RAO
Honourable Governor of TamilNadu
10.07.2004 – Dr.S.Paramasivan
Director of School Education
17.11.2006 – Dr.NEERAJ MITTAL
District Collector, Coimbatore
06.01.2007 – Mr.S.KARMEGAM
CEO, Coimbatore
05.12.2008 PADMASHRI DR.MYLSWAMY ANNADURAI
Project Director for Chandrayaan-I, ISRO
21.02.2011– Dr. SIRPI BALASUBRAMANIAM
Sahitya Academy Awardee
16.07.2013 THAVATHIRU MARUTHACHALA ADIGALAR
(PERUR AATHEENAM)
05.09.2014 – Dr. PARVEEN SULTANA
Motivational speaker
18.02.2015 – ANDAL PRIYADARSHINI
Station Director of Podhigai Television, Coimbatore
22.06.2015 – Dr. KAVIDASAN
Motivational speaker and educationalist
22.01.2016 – A.R RAHMAN
Padma Bhushan Awardee, Music Director
11.11.2019 – S.BALACHANDRAN
Director of India Meteorological Department south zone